YOUR COMMUNITY
Your Home
As a continuing care retirement community (CCRC),Bayshire Rancho Mirage offers four levels of care on a single campus: independent living, assisted living, skilled nursing, and memory care for seniors with a cognitive impairment such as Alzheimer's or dementia. Residents can easily transition from one care level to another as their healthcare needs change. This offers both residents and their loved ones the peace of mind of knowing they never need to move again.
All residents are provided with an emergency response pendant, while our 24-hour security system provides additional protection for residents in memory care. Our resident caregivers are on-site 24 hours a day, 7 days a week, always looking for ways to show our residents that they are loved and supported. We don't see that as a duty — it's who we are.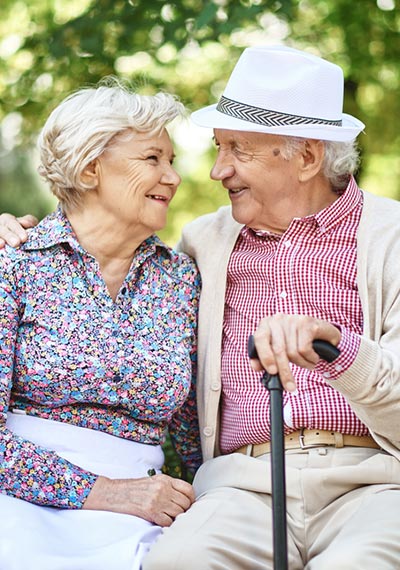 SENIOR LIVING OPTIONS
Independent & Assisted Living
Independent
Living
Independent Living offers seniors the enjoyment and excitement of community style living. Let us take care of daily responsibilities such as cooking, cleaning, and laundry. This provides our seniors more time to enjoy social events and gives them time to pursue new interests. Our continuum of care allows residents to stay in their apartment, if their care needs change. For every new resident, we complete a thorough health assessment, which provides the starting point for an individualized care plan.
Assisted Living
Assisted Living communities offer fun and freedom while making sure you have access to assistance with medication, dressing or bathing. Live in a private residence, and enjoy restaurant-style meals every day. All our communities provide social calendars packed with activities and events designed with you in mind.
Moving to Assisted Living does not mean losing independence. In fact, it can actually give you even more choices. With access to transportation services, you'll have a ride to the doctor's office, church or the mall. We cater to your specific needs, so you can focus on the things you really enjoy.
VIEW OUR
Floor Plans
You'll typically have several floor plans to choose from, including studio and one-bedroom options. Many of our apartments have great window light and plenty of room to get comfortable. You'll be able to find just the right space and make it your own. We can even help you hang pictures if you want. Most apartments come with plenty of storage, a private bathroom, and a kitchen, too.
And pets, who we consider to be part of the family, are welcome here. If you need help settling into your new home, you'll have our support with resources for financial advice and moving services.
SENIOR LIVING OPTIONS
Memory Care & Skilled Nursing
Memory
Care
Our memory care program is rooted in a person-centered approach that preserves identity and sense of self for seniors with a cognitive impairment such as Alzheimer's or dementia. Our secure communities provide a daily path of engagement that allows residents to flourish, even with advanced expressions of dementia.
We believe no matter where an individual is in life's journey, each has the right to live in a dignified manner and to enjoy meaningful experiences every day. Highly trained associates deliver on this promise as they provide dementia care services and enable residents to experience daily moments of success.
Skilled Nursing
Our skilled nursing team provides round-the-clock, licensed nursing care, and our on-site rehabilitation professionals offer physical, occupational and speech therapy to help patients recover as quickly as possible.
You'll also have access to convenient amenities and services during your stay. Many of our communities offer barbershop and beauty salon services, flexible visiting hours and special therapeutic diets.
Feel like you're in the comfort of your own home. Bayshire Rancho Mirage Skilled Nursing solutions are just the thing to get you back on your feet and back to the life you love.