Caring for our aging loved ones is often a journey filled with emotions and critical decisions. The need for a supportive environment like a skilled nursing community becomes increasingly evident as their health and daily living requirements evolve. Making the right choice becomes paramount, especially in sought-after regions like the senior living in Rancho Mirage, CA. But how does one distinguish between a standard community and a high-quality one?
Understanding the Concept of Quality
Quality isn't merely a decorative adjective in the world of senior care. It's a tangible promise, a commitment to ensure the seniors receive the best care tailored to their specific needs. Quality is a combination of various factors that range from the expertise of the staff to the very walls and floors of the community.
Parameters of Quality in Senior Care
Defining quality isn't a one-dimensional task. It encompasses several facets:
Staff Expertise: Beyond degrees and certifications, it's about their experience, their capacity for empathy, and their dedication to the well-being of residents.

Care Customization:

Recognizing that each individual has their own health and emotional requirements is pivotal.

Therapy Options: The therapy options should be varied and cater to individual needs.

Community Feedback: Real experiences, testimonials, and feedback provide raw, unfiltered insights into a community's operations.

Communication: It's the bridge between the community, residents, and their families.

Infrastructure: Physical spaces should not only be functional but should also provide comfort and safety.
Why Quality Matters in Skilled Nursing
You might wonder, "Isn't any care better than no care?" But there's a vast sea of difference between mere care and quality care. Quality care ensures that residents lead a wholesome life where their medical, emotional, mental, and social needs are addressed with finesse and attention.
The Signs of a Quality Skilled Nursing Community
1. Experienced and Compassionate Staff
A community is only as good as its people. When communities employ professionals with years of hands-on experience, they bring a wealth of knowledge to the table. This expertise is further augmented when it's paired with a genuine passion for caregiving.
2. Personalized Care Plans
Imagine being treated not as a room number but as an individual with a rich tapestry of life experiences, preferences, and requirements. Personalized care plans honor this individuality, curating care methods that resonate with the resident's unique needs.
3. Importance of Personalized Attention
Just like a tailor-made suit fits impeccably, personalized care ensures that every health and emotional requirement is addressed precisely, leading to efficient results and an enriched life experience.
4. Comprehensive Therapy Options 
It's not just about pills and routine checks. Quality care integrates therapies like physiotherapy, speech therapy, and occupational therapy. Each therapy type addresses different aspects of a resident's health and well-being.
5. Positive Community Reviews
Word of mouth and genuine feedback provide a window into the daily life of the community. Positive testimonials, especially those that delve into specifics, are often indicators of a thriving, quality-driven environment.
6. What to Look for in Reviews
General praise is good, but specifics are gold. Did a particular therapy benefit a resident? Were the staff always responsive and compassionate? Did the community organize events or activities that residents loved? The devil is in the details.
7. Effective Communication Channels
Transparency fosters trust. When a community maintains regular communication with families, it creates an atmosphere of trust and understanding. Whether it's about health updates or just routine check-ins, open communication channels signify a community's commitment to its residents and their families.
8. Modern Infrastructure & Facilities
A quality community isn't just about sparkling floors and fresh paint. It's about creating an environment where residents feel at home. This includes safety measures, accessibility features, and recreational spaces.
9. Safety First
Slip-resistant floors, handrails, adequately lit corridors, emergency call systems – these aren't luxury features; they're essential. A community that prioritizes these safety measures is genuinely invested in its residents' well-being.
10. Nurturing Social Environment
Beyond medical attention, a quality senior community realizes the importance of social interactions for its residents. Look for communities that have regular group activities, clubs, and events that foster camaraderie among residents. When seniors share experiences, stories, and activities, it significantly uplifts their emotional well-being.
11. Continuous Learning Opportunities
Lifelong learning is a passion for many seniors. Quality communities often offer classes, workshops, or guest lectures on diverse topics, from art and music to current events and technology. This ensures that the residents' minds stay active and engaged.
12. Dietary Excellence
Proper nutrition is paramount, especially for seniors with specific dietary needs. Top-tier communities not only ensure meals are nutritious but also cater to individual dietary requirements, be it low-sodium, diabetic-friendly, or vegan meals. A bonus? When these meals are also delicious and presented well!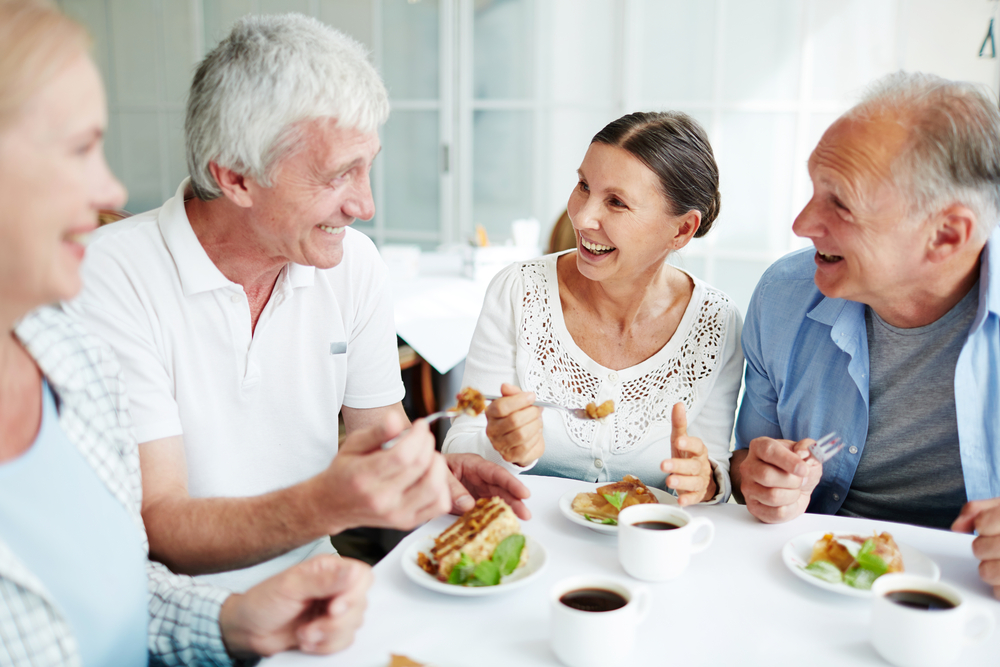 13. Resident and Family Involvement
Quality nursing communities actively involve residents and their families in decision-making processes, especially when it comes to care plans. This collaborative approach ensures that the care is aligned with the residents' and their families' wishes and expectations.
14. Access to Technology
In today's digital age, staying connected is easier and more essential than ever. Top nursing communities provide residents with access to computers, tablets, or other devices. This allows them to stay connected with their families, especially if they're geographically distant.
Benefits of Opting for Quality Care
Peace of Mind
There's an immeasurable comfort in knowing that your loved one is in a place where their every need is catered to with utmost dedication.
Enhanced Quality of Life for Residents
Beyond the routine medical care, quality communities ensure that residents engage in social activities, pursue hobbies, and maintain an active lifestyle, making their golden years truly golden.
Conclusion
The journey to find the ideal skilled nursing community, especially in premier locations like senior living in Rancho Mirage, CA, can indeed be overwhelming. However, armed with insights on what quality truly means in this context, you're better equipped to make a decision that ensures your loved ones are not just cared for, but cherished. After all, isn't that what they truly deserve?
Experience Excellence in Senior Care
Don't just take our word for it. Witness firsthand the distinction that sets Bayshire Rancho Mirage apart. Come and explore our esteemed Skilled Nursing Community in Rancho Mirage, CA. Experience the warmth, care, and unparalleled professionalism that our residents cherish every day. Schedule a tour today and let us redefine your expectations of senior living.