Dementia is a damaging disease that significantly impacts the physical and mental well-being of an affected senior. However, it not only inflicts damages to the person experiencing the illness but also to the family and caregivers of the patient. 
Caring for someone with dementia can feel rewarding, especially if your passion involves providing acts of service. But dementia care is a long and continuous journey that can sometimes become stressful, challenging, and overwhelming. 
Whether you are caring for a loved one or a caregiver working in dementia care assisted living, dementia care can drain your whole being if you don't take care of yourself. 
In fact, studies showed that many dementia caregivers fall prey to caregiver fatigue, burnout, and even depression. 
Stop this trend by giving your best as a caregiver without neglecting your own health and well-being. You can achieve this balance by planning ahead and arming yourself for the incoming battle.
Here are six tips on how to become a better caregiver to your loved one or patient and yourself.
 1. Learn and Understand the Disease
Learning everything about dementia makes it easier for you to put things into perspective and expect the day-to-day challenges that come with caring for a senior with dementia. 
Further, understanding the disease helps you prepare ahead and plan how to approach your role as a caregiver. You can physically, mentally, and emotionally ready yourself for future challenges, like:
Handling difficult behaviors.

Soothing a loved one or patient after being emotionally distressed.

Identifying and preventing triggers and stressful situations for the senior.

Staying calm, composed, and compassionate despite a stressful endeavor.

Getting your senior patient to follow a healthy routine and lifestyle.
This also allows you to anticipate and prepare for the changes that will eventually come as the disease progresses.
It would be best to gain knowledge and information about dementia through a doctor specializing in the disease. But it would not also hurt to get first-hand knowledge from the experiences of other caregivers.
 2. Accept Support
Caregiving fatigue and burnout can happen to anyone regardless if you are caring for a loved one with dementia or a caregiver by profession. In fact, research showed that four out of ten caregivers develop depression due to the labor of their job.
So to better take care of your loved one or patient, you should be able to identify when it's time to accept help and support. 
Many family and professional caregivers find support groups significantly helpful for their mental and emotional well-being. Talking about what you go through every day to a group of people who understand your situation can already do wonders for the burden you are carrying. 
Dementia care is not an easy feat, so don't feel guilty and ashamed in asking a colleague, a friend, or a dementia care assisted living facility for support.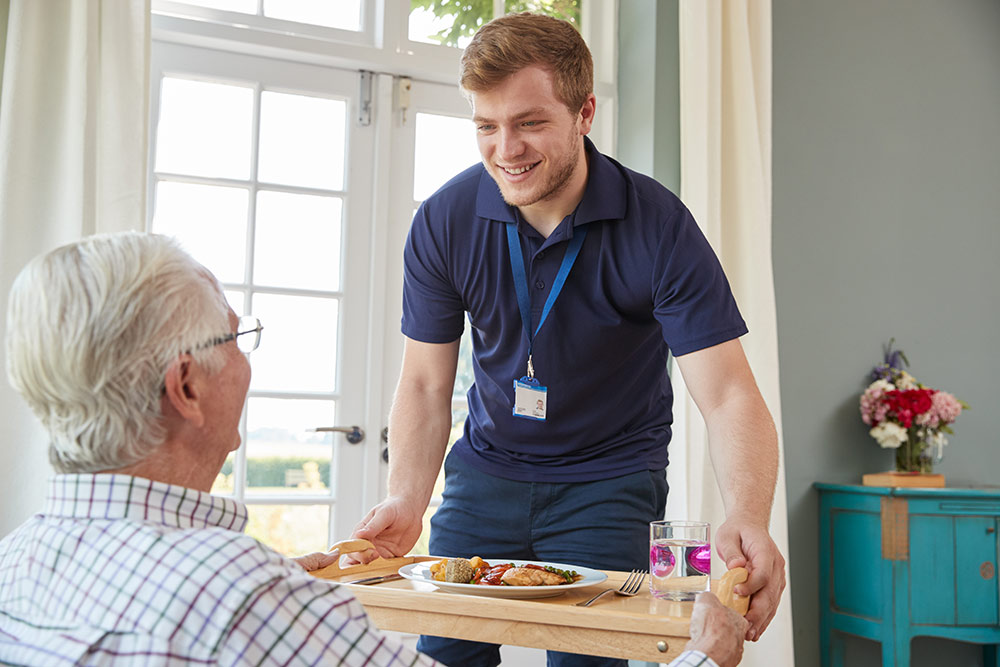 3. Establish a Routine
Many techniques can help you and your senior patient achieve a smooth-sailing relationship. One effective technique is to establish a general daily routine.
Many seniors with dementia find comfort in familiar faces, things, and even activities. This usually happens once the memory loss becomes more frequent, making them cling to anything familiar.
Routines also give a sense of consistency and provide seniors with a concrete structure for their everyday life. Thus, making them feel more comfortable and less agitated and anxious. Here's how you can best develop and incorporate a routine in your senior's day-to-day life.
Adapt the routines that they had during their pre-dementia days.

Start with simple and easy activities like consistently guiding them into brushing their teeth before they go to sleep or waking up at the same time every day.

Involve your loved one or patient in planning their daily activities.

Be flexible and prepare to alter certain activities if they do not suit your loved one's current mood.

Consider incorporating activities that your patient or loved one already loves doing.
New environments and situations can increase a senior's stress levels. So it's better to introduce the idea of a new beneficial activity to them gradually.
 4. Cope with Changes
Nothing is set in stone with dementia. As the disease progresses, there's always a new symptom that will arise or a change in the senior's behavior—one minute, they love tending to their garden, and the next, they don't. 
So be ready to quickly adapt to these changes with the right attitude and response. Remember to foster a good relationship with your patient or loved one by keeping a cheerful demeanor. Some changes to expect include:
Communication difficulties. When this happens, try to speak slowly and use short and simple words.

Side effects of their medication.

Sundowning or becoming more confused and restless during late afternoon or evening.

Problems with sleeping.
When the going gets tough, don't forget to actively empathize. More often than not, a sudden behavior change can indicate that the senior wants to communicate a concern with you.
 5. Keep Them Healthy
Despite difficulties in many aspects, seniors with dementia still need to keep up with healthy activities to ensure overall wellness. So, it's essential to get them moving, maintain proper hygiene, eat healthily, and stay socially and mentally engaged.
Further, it is essential to stimulate their brain by doing meaningful activities like arts, music therapy, reading, and scrapbooking. 
Also, it can be helpful for the senior to stay in touch with other loved ones. So, carefully plan family visits and events at the best time of your loved one or patient's day.
 6. Make Time for Yourself
Dementia care offers many rewards, but it can also become draining and all-consuming if you're not careful. It's vital to make time for yourself and your personal life to avoid becoming fed up.
Schedule a "me" time, unwind by doing fun activities, or get help by scheduling an appointment with a psychologist.
There's no shame in getting the help you need or even stepping down as a caregiver. There are plenty of excellent dementia care assisted living facilities out there that can help you care for your loved one.