Embarking on the Journey of Dementia and Memory Care
Dementia, a relentless neurological disorder, slowly steals away memories, thoughts, and behaviors. As the tides of time flow, family members and caregivers may find themselves in a stormy sea of challenges. Palm Springs memory care communities can be the beacon of light they need.
Discovering Dementia Memory Care Communities
A dementia memory care community is a sanctuary crafted specifically for those grappling with dementia or Alzheimer's disease. With tailored care plans, adept staff, and a secure haven, these communities help residents retain their dignity, safety, and quality of life.
Memory Care for Dementia Patients: A World of Benefits
Memory care communities are treasure troves of benefits for individuals with dementia, including:
Mind-stimulating

daily routines and activities

that foster cognitive function and social engagement

Skilled staff with a wealth of expertise in dementia care, ready to tackle residents' unique needs and challenges

Round-the-clock supervision and support for daily living activities

Safe environments to curb wandering and guarantee safety

Opportunities for family members to lend a helping hand and offer support
Deciphering the Right Moment for Memory Care
Knowing when it's time to guide a loved one towards a memory care community can be an enigma. Here are five key signs to unravel:
Escalating Memory Loss and Confusion
As dementia advances, memory loss and confusion may intensify, making everyday tasks, recognizing familiar faces, or remembering vital information increasingly challenging.
Deteriorating Physical Health
Dementia can also cast its shadow on physical health, resulting in weight loss, mobility challenges, or incontinence. These changes may call for extra support and specialized care.
Growing Care Needs
As dementia progresses, individuals may require more help with daily activities, such as dressing, bathing, and eating. If their current living situation cannot meet these demands, a memory care community may be the ideal solution.
Safety Worries
With dementia's progression, wandering, falls, and other safety hazards may become more prevalent. Memory care communities are designed to mitigate these risks and protect residents.
Caregiver Stress and Burnout
Caring for a loved one with dementia can be a whirlwind of emotions and exhaustion. If you, as a caregiver, are facing stress, burnout, or feeling swamped, it may be time to contemplate a memory care community.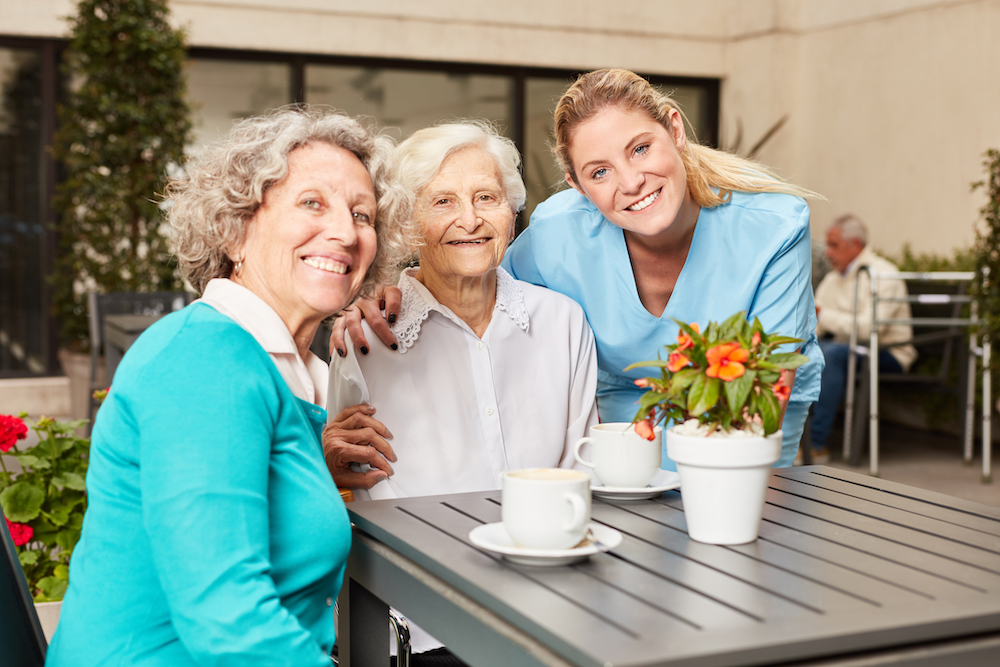 The Quest for the Perfect Memory Care Community
Finding the ultimate Palm Springs memory care community for your loved one might seem like an arduous journey. Here are some steps to guide you:
1.) Assess Your Loved One's Needs: Start by delving into your loved one's specific care needs, preferences, and personal interests. This knowledge will help you locate a community that offers them the best care and quality of life.
2.) Research Local Options: Begin by exploring memory care communities in your area. Read reviews, seek recommendations, and gather details about each facility's services, amenities, and pricing.
3.) Schedule a Tour and Inquire: After narrowing your options, embark on a tour of each community. Observe the facility's cleanliness, safety features, and overall ambiance. Engage with staff and residents and ask questions about the care your loved one will receive.
4.) Evaluate the Staff and Caregivers: Your loved one's well-being hinges on the quality of care provided by the staff and caregivers. Ensure the community has a compassionate, knowledgeable, and experienced team who can address the unique needs of dementia patients.
Embracing the Continuum of Care
Selecting a community that provides a continuum of care, such as a Continuing Care Retirement Community (CCRC), can offer long-term peace of mind for retirees and their families.
Perks of a Continuing Care Retirement Community (CCRC)
Comprehensive care options:

One campus houses independent living, assisted living, memory care, and skilled nursing care to accommodate a variety of health needs.

Seamless transition:

Residents can smoothly

move between care levels

as their health needs evolve, without disrupting their lives.

Consistent caregiver relationships:

Residents can foster enduring connections with caregivers and staff members throughout their stay.
Are you a retiree seeking a lasting solution? Bayshire Rancho Mirage, a Continuing Care Retirement Community (CCRC), offers Palm Springs memory care, independent living, assisted living, and skilled nursing care—all under one roof. Retire with confidence, knowing that no matter how your health changes, you'll be well-prepared. Our exceptional, handpicked caregivers are among the industry's finest, ensuring you receive top-quality care. To learn more about our services, contact us today!
Conclusion
Acknowledging when it's time to move a loved one with dementia to a memory care community can be an emotional rollercoaster. By staying vigilant for key signs and thoroughly assessing your options, you can make an informed decision that offers your loved one the care, support, and safety they deserve.
Frequently Asked Questions (FAQs)
Q1: How do memory care and assisted living differ?
Memory care communities focus specifically on the needs of individuals with dementia, while assisted living communities provide a wider array of services for seniors who may need help with daily living activities but do not have cognitive impairments.
Q2: Can memory care communities accommodate individuals with advanced dementia?
Yes, memory care communities are designed to cater to and support individuals at various stages of dementia, including those with advanced symptoms.
Q3: What is the cost of memory care?
Memory care costs vary based on factors such as location, services, and amenities. It's crucial to research and compare costs when selecting a community.
Q4: Can family members visit loved ones in memory care communities?
Most memory care communities encourage family involvement, offering visiting hours and opportunities for families to partake in activities with their loved ones.
Q5: How do memory care communities handle medical emergencies?
Memory care communities have established protocols to manage medical emergencies, including on-site staff trained in first aid and collaborations with local healthcare providers to ensure prompt medical attention when necessary.