Many people have their own ideas of what assisted living in rancho mirage must be like. Also, many people think that the term "senior living community" is interchangeable with the phrase "nursing home," however, these are two extremely different living choices. 
While plenty of the top assisted living in Rancho Mirage do offer healthcare options and services found in typical nursing homes. These communities also provide seniors a lot more than just support for aging.
The main focus of senior living these days is on cultivating the ideal lifestyle for seniors. Oftentimes, seniors and their families have to visit one of these communities firsthand to understand the truth about senior living. And we're always happy to oblige and let them know that their expectations will be greatly exceeded.
Debunking Common Senior Living Myths
Perhaps you're one of those who doesn't need too much convincing, and you need this information to help convince your more skeptical family members. If so, we've listed out for you the 9 most commonly held myths and beliefs surrounding senior living. While some of the following myths may have originated from a minority of bad experiences in less reputable communities, we believe that we've created the ideal environment for our residents and their family members.
Myth #1: Those Places Are for "Old" People
While it's true that many people in these communities span from 55 years old into their 90s and beyond, the word "old" in this context is usually referring to a state of mind. And that is why this myth is not true. For example, the average person in senior living compared to the average older person living outside of senior living are different. The one in senior living is more likely to have a zest and lust for life. That's because senior living communities offer many different activities (leisure, educational, and recreational) to keep residents engaged and rejuvenated.
Myth #2: Assisted Living Facilities Don't Feel Like Home
Reality: when people picture senior living communities, they may imagine lengthy, white halls full of bright fluorescent lights, which is where the association with hospitals comes from. But the truth is that senior living and assisted living in Rancho Mirage feels more like home. They feel comfortable and fit closer to resort-style living than in a hospital.
Myth #3: I Would Have to Let Go of My Favorite Activities
The opposite is usually the case. Without having to spend time doing upkeep in your home, you'll be able to spend time doing the things that you actually want to do. Whatever hobby you enjoy, there is probably a community somewhere out there that caters to it by providing free transportation to the relevant stores. Perhaps you love photography. In that case, you can probably find other fellow residents who have that same passion, and you can schedule a day trip somewhere to take photographs together. And of course, in senior living, you'll have the opportunity to try out many new hobbies and activities.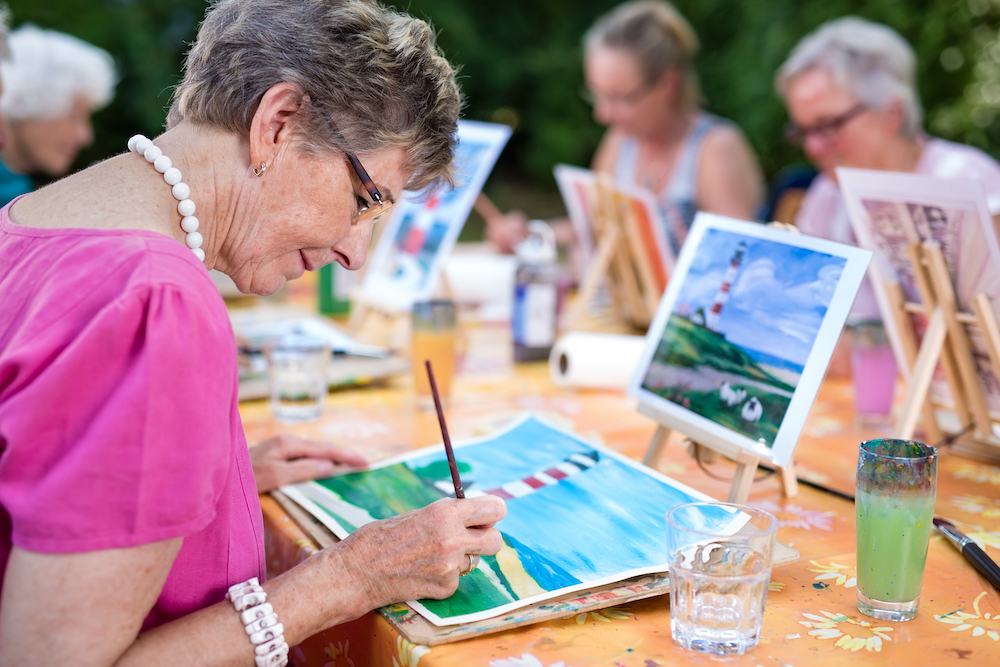 Myth #4: Choosing an Assisted Living Community Means Losing Some Independence
Living on your own and living independently are not always synonymous. While you might not own a home anymore, if you live in an assisted living community, you can have as much independence as you'd like. As a resident in senior living, you aren't restricted in what you can do or where you can go. What most seniors discover is that when they release the responsibility of owning a home, they end up having more free time and the ability to live life the way they choose to.
Myth #5: It Will Be Harder to See My Friends
This one does depend on the community, but here at our assisted living in Rancho Mirage, we are visitor friendly. After all, just because you're changing where you live doesn't mean that you must sacrifice your social life! In fact, plenty ends up choosing to live in a senior living community to experience a more rich social life.
Myth #6: Senior Living Costs More Than Staying at Home
Families checking out the rates of assisted living are frequently hit with sticker shock at the monthly rates. However, the truth is that the average price of assisted living is very comparable to or less expensive than getting the same level of service and care at home. This is true even for families who have paid off their mortgages; upkeep on a home can still be expensive. There are utilities, taxes, emergencies that can occur, repairs, routine upkeep, insurance taxes, etc. In senior living, you'll find that most things are included in one single price. It's also convenient to have housekeeping services, social events, entertainment, and care support easily at your fingertips.
Myth #7: I Will Not Have Any Privacy in a Senior Living Community.
Residents can decide how little or how much time they want to be alone. Private suites are accommodating and comfy, so you can end up spending your whole day relaxing in your favorite armchair with a good book if you want to. The need for privacy and a non-intrusive environment is understood and respected by staff members and the other residents. Also, when you feel like poking your head out for socialization, you only have to step outside.
Myth #8: I Can't Personalize the Place I Get.
There is some truth to this in that you probably won't be able to make any changes you want to, like repainting the walls or refinishing the tiles, etc. Still, most communities do want their residents to express their creativity in decorating their suites with their pictures, favorite items, and even their own furniture pieces.
Myth #9: Meals Are Plain and Not That Appetizing
One benefit that's often overlooked in assisted living is the inclusion of multiple consistent and nutritious meals every day, plus the addition of venues that have unlimited beverages and snacks. The quality of dining, of course, varies with each community. At assisted living in Bayshire Rancho Mirage, you'll find that the food options are anything but unappetizing.