For seniors, moving to a new area can be particularly difficult if their social lives revolve around the car. If you're in this situation, it's easy to feel isolated and alone. But there are ways to make friends and find activities that give you a sense of belonging and purpose. Palm Springs senior living communities make this even easier. This post will look at 14 helpful tips for making friends in Palm Springs senior living communities.
1. Starting Conversations
Before you get to know your new neighbors, introduce yourself to the receptionist and start conversations. A Palm Springs senior living community might have a list of residents you can speak to, or they could have on-site social events that you can attend. Wait until the holidays or someone's birthday to make a lasting impression.
2. Being Active
Start participating in Palm Springs events, classes, and groups, and you'll quickly make friends with fellow seniors. For example, most Palm Springs senior living communities have a fitness center, library, and activities room. Try the gym to meet new people or join the gardening club. You might also enjoy talking with others about valuable community topics like volunteering opportunities and transportation options.
3. Socializing
If you want to make friends in Palm Springs, don't try to create an artificial environment where you feel obligated to join a conversation that isn't natural. Instead, make an effort to walk around the courtyard and introduce yourself to people. You won't be bored of your new community if you spend time getting to know people and engaging in their lives.
4. Inviting People to Dinner
Most Palm Springs senior living communities have a dining room where you can invite your new friends for dinner. You can create chemistry and get to know each other over a meal. By joining them for dinner, you're giving your new friends the best impression possible, encouraging them to invite you to events in the future.
5. Join Travel Groups
Senior travelers like to meet new people and find other people who share their interests. If you can't go on trips together, you might consider hanging out at the senior center and attending social events. You should also try to attend events in person or participate in phone activities with other seniors, as opposed to email.
6. Join Clubs
There are so many clubs to choose from, which means you can find a group of people who share your interests. Joining a club will allow you to reach out to other members when you want to socialize. It will also allow you to participate in fun activities with people who might be different from you.
7. Take Classes
If you're a new resident, take classes to learn about your community or begin the conversation with other seniors. You might even be able to join an enrichment program with a Palm Springs senior living community. You can participate in many activities like music, art, dance, and yoga. Even if you aren't interested in dancing, you can still meet others and make friends during these activities.
8. Become a Volunteer
Are you looking for volunteer opportunities? If you live with other seniors, they might be able to recommend you to their social organizations. In addition, many senior living communities have volunteer programs such as Meals on Wheels or baking and cooking courses that could get you involved. Finally, some non-profit agencies in Palm Springs provide services to seniors, like English classes or veterans services, which you can volunteer at.
9. Join a Group Sport
Why not make friends while you're playing? You can join a group activity and begin a conversation with people who aren't trying to make it feel like a competition. For example, try joining a softball or volleyball team; you might find it easy to start conversations with other members.
10. Be Patient
It's okay to admit that you don't have any friends in Palm Springs. But the important thing is to be patient and stay positive. You'll find people to associate with, so don't give up! Just take your time and stay active in the community, and you'll find it easy to meet people.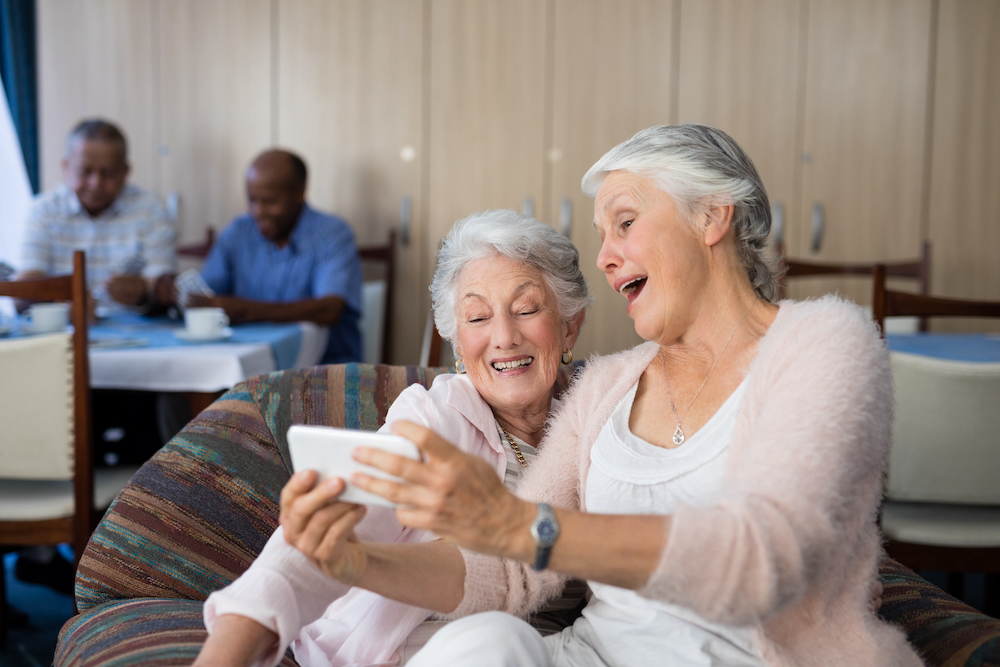 11. Keep an Open Mind
Don't be afraid of making friends because you assume they'll be different from you or will not like you. Instead, overcome your fear by trying new activities, conversation starters, or clubs, and commit to meeting new people. The only way to know if this is right for you is to try it out.
12. Be Attentive
When you see new faces, make a point to remember their names and introduce yourself. You might make new friends on a first-name basis after meeting them once or twice. However, it might take some time for these people to get to know you and want to begin a genuine friendship. Don't jump ahead of yourself by making conclusions about the types of people you'll meet in Palm Springs senior living communities.
13. Be Genuine
If you're going to make new friends, remember that you should keep these relationships genuine and not manipulative. This will help you form authentic and meaningful relationships in the long term.
14. Don't Judge People
Some people come to Palm Springs senior living communities because they want to keep to themselves. Don't judge them for their decision and don't think that you could never be friends with someone like this. If you're friendly and genuine, they might begin to warm up to you as time passes, but don't try and force them into a friendship if it's not right for them.
Check Out Bayshire Rancho Mirage
These tips will help you make friends in a Palm Springs senior living community, but they may also come in handy if you move somewhere new later in life. One of the biggest pains of moving is that it can be difficult to feel like you belong where you are. But if you follow these steps, you won't have to feel alone any longer.
Are you a retiree looking to retire with peace of mind? If so, then Bayshire Rancho Mirage is waiting for you. We are a Continuing Care Retirement Community (CCRC). At our facilities, you will find independent living, assisted living, memory care, and skilled nursing care options. At Bayshire Rancho Mirage, you can retire with peace of mind knowing that no matter how your circumstances change, you'll be able to handle it.