Staying fit and active is very important, especially as we age. While we might feel inclined to slow down, retirement is the perfect time to try something new! With your newly found downtime, you might be wondering how you're going to fill the gaps. Our Palm Spring senior living community has a few suggestions, including trying out a few sports!
Don't worry, we aren't about to suggest training for a cross country marathon or taking up something like skateboarding. But there are a few great activities out there that can help seniors keep active while still being safe. Keep reading to check out our list!
1.) Take a Whack at Tennis
Despite the way John McEnroe makes it look sometimes, tennis is actually a really fun sport! It is an excellent way to get in some heart healthy cardio as well workout various muscles, including the arms, legs, and core. Play one on one or grab a team of friends and make it a doubles match. This way, you also get the added benefit of socializing and connecting with others. 
If you've never played tennis before, don't worry! No one is expecting you to be a pro. If you're a resident at Palm Spring senior living, consider taking up tennis lessons or joining a local tennis club. Invest in a sturdy pair of tennis shoes and a decent racket from a sporting goods store, and you should be set to learn!
2.) Just Keep Swimming
Did you know that swimming is one of the best athletic activities that seniors can participate in? There are many benefits to swimming, starting with the fact that it is low impact. As we age, we tend to experience aches and pains in our joints and muscles. Issues such as osteoporosis and arthritis are also cause for concern and can make exercising painful. Thankfully, the buoyancy of water can help alleviate this stress.
You don't necessarily have to get in the pool and swim laps, though! There are many great water aerobics exercises that can be done in the water. Aquatherapy is a popular option for those who have recently undergone surgery on a joint, such as a knee or hip replacement. It can serve as a way to build up to regular physical therapy. 
Our beautiful Palm Spring senior living community actually has a pool on location and available for our residents to use at their leisure. This outdoor pool area also features a hot tub, which is perfect for soaking and relaxing any sore or tense muscles. 
3.) Go For a Walk
While it's probably not classified as a sport, walking is still really good for you. It doesn't require any special equipment nor do you have to have a specific location, such as a tennis court or a pool. All you need to do is put on a comfortable pair of shoes and head outdoors! Walk around your neighborhood with your family dog or with your grandchildren. Take a stroll through the local park or even do a few laps around your indoor shopping mall. No matter where you walk, you're getting great exercise.
Walking is another example of cardiovascular exercise. It is good for both heart and lung health while also being low impact. If you have any issues at all with mobility, be sure to bring along your knee brace, cane/walking stick, or any other mobility assistance you may need. This will help to keep you safe while you exercise. Also, be sure to stay hydrated while you're out! 
4.) Make Moves with Tai Chi
Have you ever heard of tai chi? It is a low impact form of martial arts that originates back to ancient China. It is also a non competitive sport. Rather, it focuses on deep breathing paired focused and slow movements. It can be performed standing up or sitting down, whatever your mobility range allotts for. You can check out a tai chi class at your local learning center or watch some instructional videos on YouTube. 
The benefits of tai chi have been shown to be numerous, especially for seniors. Firstly, it helps to improve balance and coordination. Falls are the number one cause of accidental death among older adults in the United States, so having good balance is a must. Also, tai chi can also work to improve bone density and bolster muscle strength.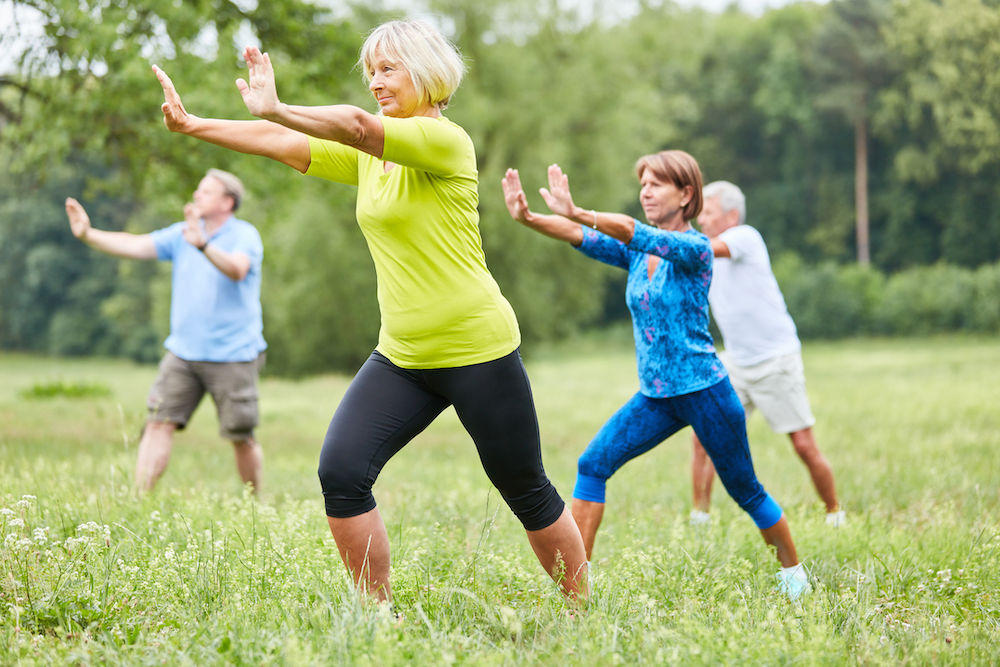 5.) Go for a Digital Sport
In the past decade, video games have seen a total overhaul. No longer are they simple point and shoot games like one might encounter at an arcade. Instead, they are more of a full body experience. It started off with the console Wii, which introduced virtual bowling, skiing, and other fun sports. While this is still an excellent option, there is another type of console to look out for: virtual reality (or VR for short!).
VR can be a lot of fun and allow you to explore many different types of game options. From becoming a world class boxer to traversing the depths of space, VR gets its participants moving and on their feet. Of course, just make sure you're in a wide open space when playing so as to not accidentally knock over a prized vase!
Wrap Up
There are many great ways that seniors can stay in shape and stay active. Participating in one of the sports on this list is sure to keep you entertained and your blood flowing! Of course, before you try any of these, be sure to consult your doctor, especially if you have any underlying medical conditions. 
Palm Springs Senior Living
Here at Bayshire Rancho Mirage, we want our senior residents to live their golden years to the fullest! That is why we offer up a robust daily activity calendar chalk full of events. No matter what your interests are, any senior is sure to find something that they enjoy. Table games, dance classes, cooking workshops, group walks – you name it, and we have it. 
If you're interested in becoming a resident of our beautiful community, please feel free to reach out and contact us today! We would be more than happy to answer any questions you may have and even give you a tour of our facility. We can't wait to see you here at Bayshire Rancho Mirage!