May is upon us and while the temperatures are bound to stay mild throughout the month, once Memorial Day comes around, things will inevitably shift. The increase of heat is right around the corner, meaning that it is all the more important to prioritize hydration. While everyone should increase their water intake, for residents at our senior living community in Rancho Mirage, it is especially important. 
The question remains then: what can be done? Good news is quite a bit, actually! Because thirst naturally diminishes with age, adequate hydration should be something that seniors and caregivers should be mindful of. Continue reading to learn more about senior hydration and how you can help!
Signs of Dehydration
The first thing that you need to know about dehydration is what the warning signs and symptoms look like. According to the Mayo Clinic, "dehydration occurs when you use or lose more fluid than you take in, and your body doesn't have enough water and other fluids to carry out its normal functions." Thanks to the way we age and a natural decrease in kidney function, we can get dehydrated much faster. 
Here are a few signs you should be aware of:
'Cottonmouth' or a tongue thick with saliva

Limb cramping

Frequent headaches

Body weakness or fatigue

Low urine output

Dry skin

Sleepiness

Irritability
While this is not a fully comprehensive list and any number of these symptoms can occur at once, these tend to be the most common. These should be your first indicators. However, if left untreated, these can quickly become life threatening. You should immediately take your senior loved one to the emergency room or call 911 if they begin to experience sunken eyes, delirium, convulsions, bloated stomach, or seizures. 
7 Hydration Tips
Have no fear, hydration can easily be managed with a few easy tips!
1.) Increase Fluids
One of the key ways to avoid dehydration is by keeping a constant intake of fluids. Keep drinks around them and in reach at all times, especially water. If they can be a bit picky and don't like plain water, that's okay! Freshen it up by adding some fruit, such as berries, lemons, or limes for some added flavor (and nutrients!). Cucumber and mint is always a tasty addition as well. Invest in a fun, refillable water bottle that has markers to indicate fluid intake goals. 
2.) Avoid Sugary Drinks
As delicious as they can be, drinks such as soda, coffee, juice, and wine or other alcohol can all add to one's dehydration. If your senior loved one who lives here at our senior living community in Rancho Mirage wants to go for a hike or nature walk, make sure that they haven't had too many of these other types of drinks beforehand. Encourage them to hydrate properly even before leaving their residence!
3.) Wear Light Clothing
If you're wearing heavy clothing, especially out into the summer heat, you are bound to dehydrate quicker. While you still want to make sure your senior loved one is wearing adequate coverage to help protect their skin from sun damage, encourage them to wear lighter, more breathable materials, such as cotton and linen. Avoid heavier textiles such as denim and polyester.
4.) Remember to Take Breaks
As we age, our energy levels tend to diminish naturally. We don't always have the pep in our step like we once did. That being said, it is all the more important to take breaks while spending time outdoors in the summer heat, especially for seniors. If possible, bring them to a shaded area and let them rest. Even better if they can get inside somewhere with air conditioning. 
5.) Eat Healthy Foods
If we eat a lot of salty foods, it can dehydrate us quicker! If your senior loved one is planning on spending time outdoors, it is best to opt for foods that are going to be healthy and have a high water content. Many fresh fruits and veggies are great for this, including watermelon, peaches, grapefruit, lettuce, cucumbers, and tomatoes. 
6.) Act Early and Quickly
If you notice any of the signs or symptoms of dehydration that we mentioned earlier, don't wait. It is absolutely essential that you act as quickly as possible, as it could literally mean life or death for your senior loved one. Get them water or a sports drink, such as Gatorade or Powerade, as quickly as possible. This will help to replenish their electrolytes and get them feeling better again.
7.) Be Mindful of Medications
There are actually some medications that can cause dehydration to worsen. It is vital to be aware of these. Read the medication labels or talk to your senior's doctor about what has been prescribed. They may need to drink more water in general, not just at times where they'll be more frequently outdoors in the heat!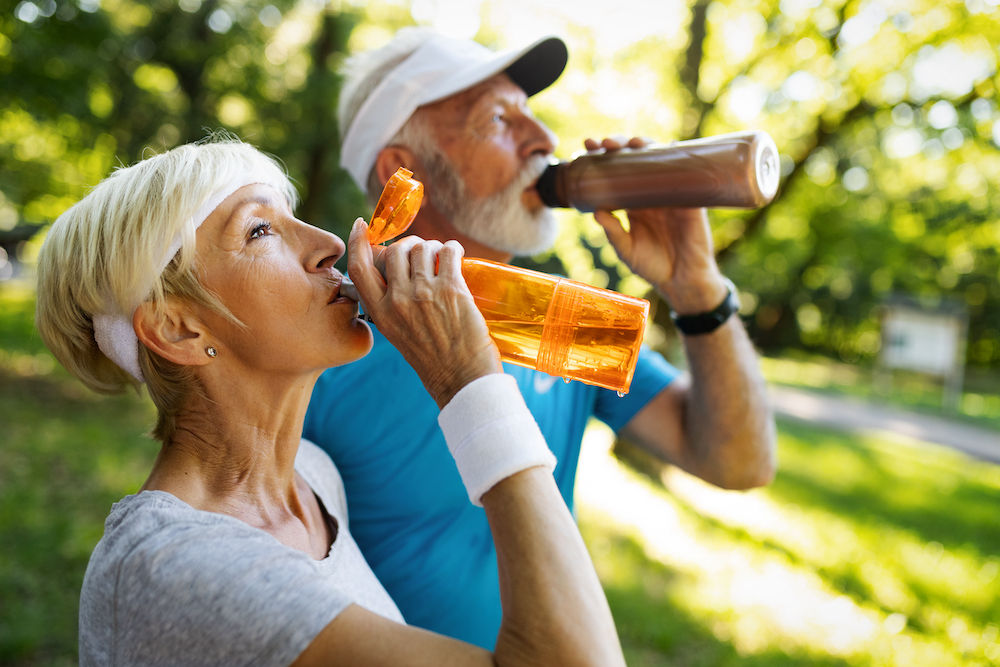 The Takeaway
Spending time outdoors and in nature is good for the soul, especially if your senior loved one has felt cooped up during the long winter months. Activities such as visiting the beach, hiking nature trails, or taking grandkids to the zoo should all be things on the agenda for this summer. However, it is important to do them safely. 
Start by staying hydrated and drinking plenty of water all throughout the day! Be vigilant of any indicators of dehydration, and act quickly to take the proper measures to stay hydrated. If a situation escalates, don't hesitate to contact emergency services. 
Bayshire Rancho Mirage
Here at our senior living community in Rancho Mirage, we understand that hydration is an important factor of senior health. That is why if you or your senior loved one comes to live at our facility, you know that they will receive excellent care. 
Our community does have a monthly calendar that features a whole host of activities, including plenty of fun things to do outdoors. Don't worry, though – we promise to keep your loved one safe and hydrated, especially while out in the summer heat.