When it comes time to make a move to Palm Spring senior living, it can be a tough decision. There are a lot of factors that go into consideration prior to making the move. Namely, it boils down to the fact that it is a better and safer option for the senior loved one. While this is obviously a good thing, it can be understandably met with some resistance. 
Some parents can be reluctant to move, even if it is logically the best decision. But why is that? The fear of losing independence is a pretty powerful thing. No one wants to feel like they are a burden or that they can no longer be trusted to care for themselves. Not only that, but there is a lot of misinformation and stigma surrounding senior living communities in general. 
If your parent or other senior loved one is hesitant about moving, keep reading to learn what you can do.
Start the Conversation
The first thing that you should note is that you are likely not going to resolve any issues in a single setting. This process is going to be a bit tedious and will require a lot of patience, understanding, and compassion. While it is important to communicate with your parent about your feelings and concerns, it's equally as important to make sure that you aren't nagging or criticizing. This is a major life decision, and as the old adage goes, it's best to eat an elephant one bite at a time. 
Language Matters
When talking about making the move, remember that language matters. There is certainly some verbiage that you will want to avoid, as it sets a negative tone and connotation about senior living in general. For example, many people might refer to our Palms Spring senior living community as an 'old folks' home' or a 'nursing home' and that's not the case. Be more positive and accurate with your language, referring to it as a senior living community or independent living residence. Even a word like 'facility' can come across as overly clinical or a bit cold.
Point Out the Positives
The amenities available at a senior living community are typically the best selling points. When you are trying to help convince your senior loved one to make the move, take the time to go back over the amazing amenities that are offered. 
If you have toured the community, what were some of the things your senior liked? Were the gorgeous grounds a particular interest? What about the robust and thriving activity calendar? Was there a pool or other feature that really caught their eye? How was the food, did that seem to be a highlight for them? Focusing on the positives is always a good way to go.
Listen to Fears or Concerns
No matter what senior living community your loved one is moving to, it is natural that they are going to have fears and concerns. They are likely going to be worried about what is going to happen to their current home and possessions, and find navigating the transition to be extremely overwhelming. Not only that, but it will come with a whole host of negative emotions that can severely impair judgment. 
When this happens: listen. Validate these emotions and make sure your loved one feels heard. At the same time, make sure you have an answer prepared to give in response. If "I don't know" or "we'll figure it out" is your go-to answer, this will only continue to sow seeds of doubt and discomfort for your loved one. Coming up with a clear, well thought out plan and including them in the process as much as possible will keep everyone on the same page and instill confidence in the transition.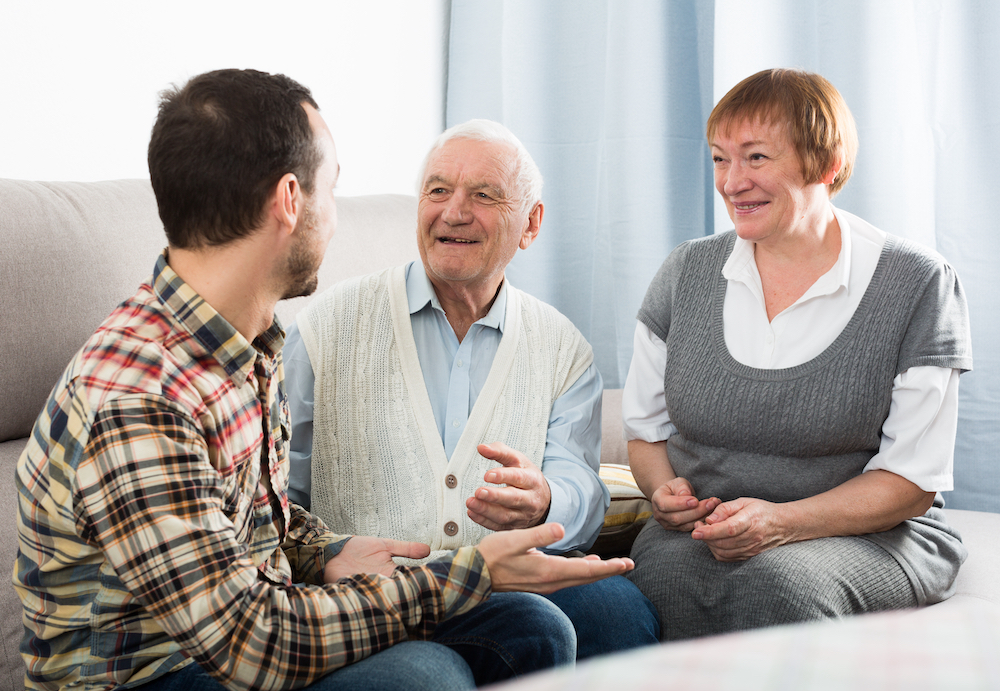 Key Questions to Ask
We all love our parents, but staying positive, patient, and upbeat can prove to be incredibly difficult when they are being especially stubborn. As much as we want to blow up or even throw in the towel, shifting and asking open-ended but non-threatening questions can go a long way. 
He are a few sample questions you may want to consider:
What is the most important thing in your life?

How do you like to spend your time?

What are some of your interests and hobbies?

What do you wish could be different about your life?

Are things running smoothly around your house currently? If not, what are you struggling with?

How do you envision the next few years going if you continue to stay at home?

If you stayed at home, what are some things that you would like to achieve?

What are the best things about living at your house currently?

If you moved to Palms Spring senior living, what would you have to give up? But also, what would you have to gain?'

Are you ever feeling lonely or bored at home?

Is there anything going on with your health that concerns you?

If you fell at home or experienced a medical emergency, are you worried about who would be around to help you at the moment?
While these are just a few of the questions you can use to get started, you know your senior better than we do. Follow these as a baseline and create tailored questions to go from there. 
Palms Spring Senior Living
If you haven't taken a tour of our Palm Spring senior living community, now is a great opportunity to book one! For some parents, it can be hard to envision the next step of their life without actually seeing it. This is understandable! After all, did you head off to college without them coming along for a tour of the campus? Now is the time to return the favor and offer that same level of guidance and reassurance! 
By touring our community, talking to other residents and staff members, as well as seeing our grounds and amenities, we know that this will help put their mind at ease. We will gladly help answer any questions you all may have. We want to provide support every step of the way! Contact us today to get started!