The holiday season is just around the corner, what better way to prepare than by trying your hand at scrapbooking? Scrapbooking is an ideal activity for seniors and their loved ones to bond over and pass down precious memories, especially as families gather for the holidays.
At Bayshire Rancho Mirage, a vibrant Palm Springs senior living community, our mission is to provide a luxurious and enriching experience for seniors as they embark on a new stage of life. We understand the importance of creating meaningful moments and preserving memories, which is why we believe that scrapbooking is an excellent activity for seniors to try. 
Additionally, scrapbooking has numerous benefits for seniors including relieving stress, improving cognitive function, and strengthening bonds with loved ones. We've rounded up the top ten reasons for seniors to indulge in nostalgia this holiday season and give scrapbooking a shot:
#1.) Preserve precious memories.
Scrapbooking is a heartwarming way to capture and preserve memories to share with loved ones. As the holiday season approaches, now is the perfect time to start documenting your life journey and creating a beautiful scrapbook to reminisce about special moments.
As a bonus, starting now means you'll have empty pages to fill with memories created this holiday season! Look forward to the upcoming months by beginning a project now that will continue to grow with you and your loved ones and expand as new memories are made.
#2.) Explore a new creative outlet.
Scrapbooking is an artistic and creative hobby that allows you to express yourself through colors, designs, and layouts. It's a fantastic way to tap into your creativity and keep your mind active. Scrapbooking is especially great because there are no structured rules to adhere to – you are free to preserve memories in whichever way best suits you!

#3.) Strengthen bonds with loved ones.
We know seniors hold family close to their heart and see how our residents cherish spending quality time with their loved ones. We also witness the lasting connections made in our Palm Springs senior living community as seniors socialize and make friends with other residents. 
By creating scrapbooks, you can strengthen bonds with your loved ones by sharing family stories with new friends, and telling your family about memories made with new friends. Scrapbooks are the perfect medium to process and celebrate life changes and transitions, especially for seniors adjusting to a new stage of life.
#4.) Getting started with scrapbooking is simple.
Scrapbooking is a hobby that is easy to start, making it accessible to seniors with varying levels of dexterity and creativity. You can begin with simple designs and gradually work your way up to more complex layouts. How you choose to design your scrapbook is completely up to you, allowing for complete creative freedom and self-expression.
#5.) Document your family's legacy.
We understand that the decision to be in a senior living community and away from family, especially during the holidays, can be challenging. Engaging in scrapbooking as a family is one way to make this transition smoother and make visits more meaningful. Try working together as a family to create a scrapbook that explores this new stage of life and take turns creating new pages to surprise each other with during each visit. 
Make sure to involve children and grandchildren in your scrapbooking as well. Scrapbooks are a form of legacy-building, passing down your stories and experiences to future generations. Sharing stories visually adds priceless context – not only by preserving memories through photographs but by showcasing your spirit and self through creative layouts and adornments.They become treasured heirlooms that your family will cherish for years to come.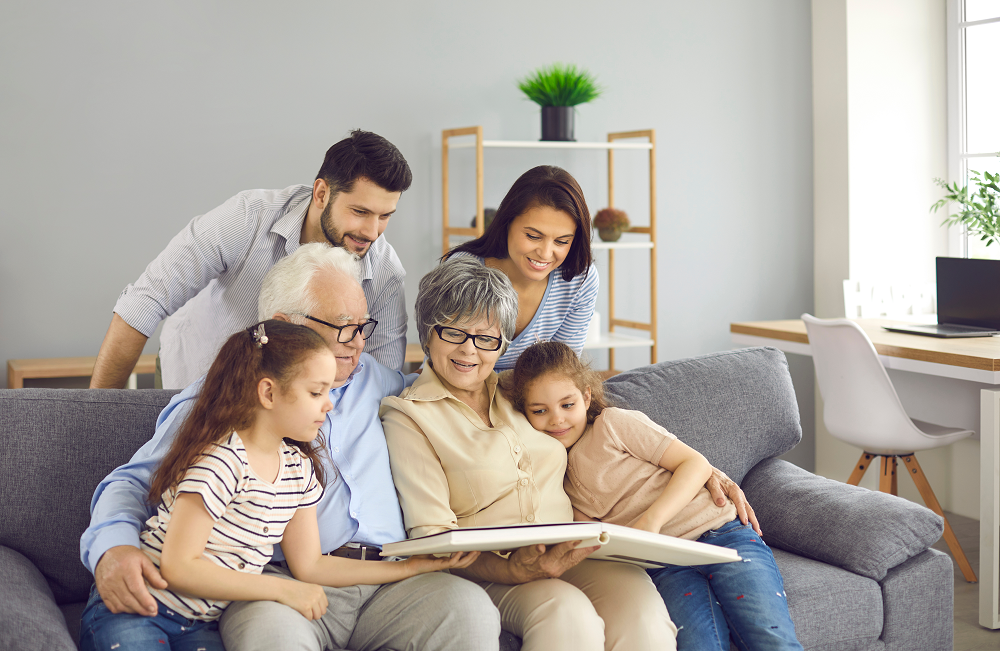 #6.) Scrapbooks make excellent personalized gifts.
Everyone appreciates receiving thoughtful, personalized gifts. A handmade scrapbook filled with love and memories makes for a cherished present for family members and loved ones during the holidays.
Scrapbooks are also not limited to the winter holiday season. Themed scrapbooks for birthdays, anniversaries, and other holidays year round always make for a fun, creative, and heartfelt gift.
#7.) Capture the spirit of the holidays.
The holiday season is magical, and scrapbooking offers a unique opportunity to capture the spirit of these joyful moments. You can create themed holiday scrapbooks that reflect the warmth of the season and look back on holidays throughout generations of your family.
Our Palm Springs senior living community comes to life during the holidays, and our resident events are the perfect place to make new memories with loved ones. Capturing the new stage of life you are embarking on and sharing these precious moments through a scrapbook is a great way for seniors to stay connected with loved ones during time apart.
#8.) Boost cognitive skills.
Engaging in scrapbooking activities is not only enjoyable but also beneficial for cognitive skills. Designing and sharing scrapbooks helps improve memory, problem-solving, and attention to detail. It's an enjoyable way to keep your mind sharp and active.
#9.) Reduce stress.
The process of scrapbooking can be soothing and stress-relieving. Focusing on and sharing positive memories can be a therapeutic activity for seniors and can strengthen bonds with loved ones with whom you are sharing. Scrapbooking is also a great way to spend time away from screens, giving your mind and eyes a much-needed break.
#10.) Capture memories during your new stage of life.
Older adults in senior living communities are embarking on a new stage of life, making memories with new friends while staying connected and close to family. In our Palm Springs senior living community, we host a wide range of events for our residents and their families. These events provide countless opportunities to capture new memories in your scrapbook, making each page a testament to your vibrant community life.
As we approach the holiday season, consider embracing the art of scrapbooking. It's a wonderful way to preserve precious memories, bond with family, and create beautiful keepsakes to be passed down for generations.
Tour Our Palm Springs Senior Living Community
Ready to make new friends and create new memories as you embark on a new stage of life? Consider Bayshire Rancho Mirage, the premier Palm Springs senior living community, where exceptional care meets luxurious, resort-style living. Contact us today to schedule your tour and to learn more about what our great community has to offer.