Memory care is a specialized form of care that includes supportive services that specifically help seniors with dementia, Alzheimer's disease, or other memory conditions. While at Palm Springs Memory Care, for instance, our residents receive 24-7 care from our resident caregivers, and our residents feel loved and supported as a result. We are also on standby to help you or your loved one plan a move to Bayshire Rancho Mirage. But first, what are the specific benefits of choosing our community over the many others out there?
1.) Palm Springs Memory Care Is a Continuing Care Community
When looking after a loved one with dementia or Alzheimer's, you will already be doing your best to keep them comfortable and safe. However, eventually, it will come to the point that dementia or Alzheimer's disease progresses into something that goes beyond the capabilities of the family caregiver. When this time eventually arrives, you will want the transition into memory care to happen as smoothly as possible.
This is why continuing care communities (CCC) like ours offer an advantage. A CCC has the critical aspects of aging all in one place. Our campus provides independent living, assisted living, memory care, and skilled nursing care. So no matter what, your loved one can easily transition to the next stage of care while they and you can have greater peace of mind. This early and smooth transition will ensure that your loved one is well taken care of and can retain their independence for longer.
2.) Safe and Secure
A common behavior seen in people with dementia or Alzheimer's is wandering. According to the Alzheimer's Association, wandering affects approximately 60% of all people with dementia. In most homes, it can be difficult to stop a loved one from wandering and getting lost outside, for example, which can cause terrible headaches for everyone involved, not to mention putting lives at risk.
But when living in a community like ours at palm springs memory care, you'll find that the outdoor and indoor spaces are all designed so that exploring (but not wandering) is still possible. To ensure the safety and security of our residents, we also provide the following:
24-hour emergency call pendants

Awake staff that is on-site 24-7

Residents remain always connected to family members and friends through the incredible Sagely App.
With all the safeguards we've put in place, residents can move about freely and relish their independence with no risk to their well-being.
3.) The Epitome of Relaxation and Comfort
Safety isn't the only benefit you'll find in our Palm Springs Memory Care community. We have also designed it for comfort, easy navigation, and to feel as close to home as possible. An adult with dementia should have calming routines and live in a familiar environment to experience less anxiety and stress. Residents and family members are also welcome to give their rooms a personal touch with familiar decorations, photos, and belongings to make their space feel even more like their own home.
Our community also benefits from being just south of the world-famous Palm Springs. So, you or a loved one can enjoy luxurious, resort-style living, which is ideal for seniors with dementia.
Here are other ways in which you can relax in our community:
Relax in our heated outdoor jacuzzi and pool

Walk with your pet (pet-friendly community)

Explore our 5 acres of landscaped grounds, where you will find walking paths and gardens that delight the senses

Receive pampering in our beauty/barber shop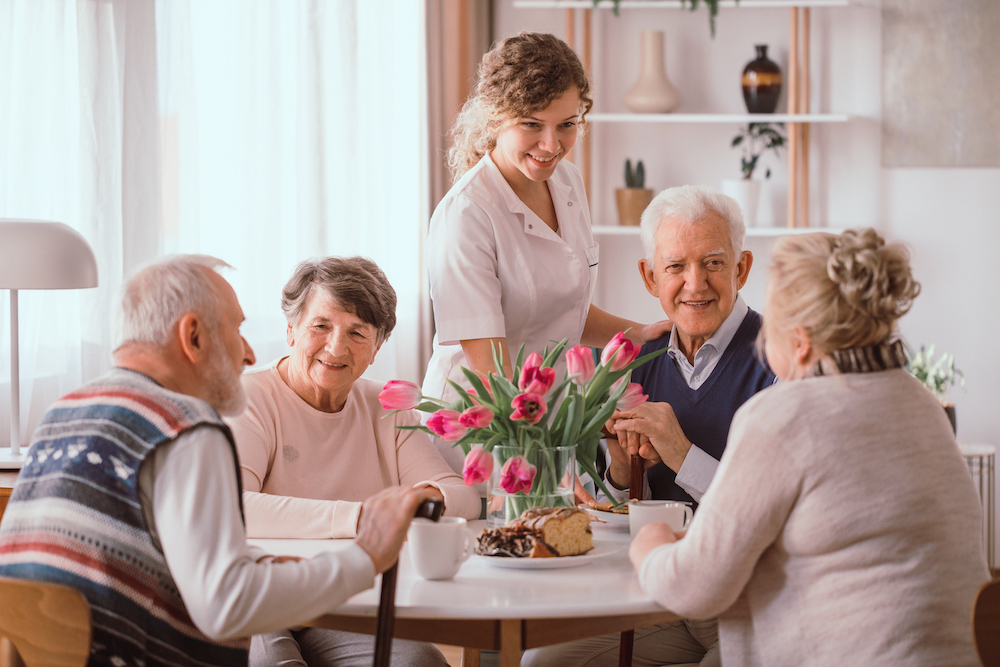 4.) Receive Personalized Care and Attention
Since no two people with dementia or Alzheimer's will experience things the same way, the best memory care communities will have a low resident-to-staff ratio and provide personalized care to meet each resident's unique needs. Caregivers in our Palm Springs Memory Care community are vetted carefully and properly trained on the most effective memory care techniques.
Each resident in our community will also have their own Personalized Care Plan. This includes:
Assistance each day with activities of daily living (ADLs), such as mobility, medication management, personal grooming, and more.

3 healthy and nutritious

chef prepared meals

(planned by a Registered Dietician) are also included each day.

Nursing oversight for critical healthcare requirements 24-7.
So, you can rest assured that you or your loved one will receive the attention to detail that they deserve to live a happy, safe, and fulfilling life in our community.
5.) Activities Fostering Independence and Fulfillment
Activities in memory care communities are designed to provide many benefits to people living with dementia and Alzheimer's disease. In many cases, these activities will help stimulate memories, support an independent mindset, and help foster relationships between residents. Here at Palm Springs, we provide opportunities for off-site group outings, and transportation is included for these excursions and events.
When dementia or Alzheimer's advances and communication becomes more difficult, the kinds of social interactions that our community fosters can help keep social skills from getting rusty.
But what about the unenjoyable activities that are part of life? Housekeeping, property maintenance, laundry services, etc.? Do not worry because these are all included in your senior living package. As for personal maintenance needs, we also have podiatric, dental, and mobile physicians available too (based on insurance provider).
Our apartments range in size from studio to 2 bedrooms. Regardless of your choice, these services will still be included.
6.) Peace of Mind for Family Caregivers
And finally, our Palm Springs Memory Care community's benefits also extend to family caregivers. Family caregivers will have more peace of mind and less stress knowing their loved one is getting the best quality care in a secure and safe environment. In fact, frequently, a parent-child relationship can fully blossom once the caregiving responsibilities have been handed off and taken care of by a third party.
And even when there is no longer the burden of full time-caregiving, family members can still stay active in their loved one's care plan. This remains the case even when a loved one has reached the final stage of care and has already transitioned into our memory care community.
Contact Us Today
We encourage you to contact us for any questions or clarifications about what we have written here. We would be happy to answer any questions you may have, and we hope to welcome you as a new member of our community!