The desire to care for the elderly is noble and honorable and often stems from deep-seated family and religious traditions. However, the role of a caretaker can be challenging, rewarding, and sometimes demanding. If you are considering taking on this responsibility, there are some duties that may be expected of you as a Palm Springs senior living community caregiver. Below are just some of the things that you should be prepared to do as a caregiver in this field.
1. Medication Administration
As a caregiver, you may have to administer medication to the facility's residents. You will be trained on how to give them properly so as not to harm or otherwise negatively affect the resident. Some medications will be administered via injection, while others will be taken orally. You may also have to administer oral medications to the residents, so you should be prepared to do this if necessary.
2. Meal Prep & Serving
If you work in a home with children who live there, you may have to help prepare meals for them and serve them breakfast, lunch, and dinner. You may just need to prepare the food and serve it, or you may have to help them eat as well. You will also need to clean up after they are finished eating and get the kitchen back in order afterward.
3. Physical Assistance
There are situations where a resident may require physical assistance with dressing or bathing, and you will be expected to provide this service if necessary. This is especially true if they cannot do so on their own because of illness or disability. You are also expected to help them with personal hygiene and ensure that they wash their hands thoroughly at all times.
4. Grooming & Personal Hygiene
You must keep a close eye on the residents of the home and ensure that they are grooming and keeping up on their personal hygiene, including taking care of their hair, washing their faces, showering, and shaving as well as ensuring they are properly dressed. It is also important to try and get them to exercise and participate in other healthy activities.
5. Transportation
In some cases, you may have to accompany the home residents when they visit the doctor or dentist or go grocery shopping. You will have to drive them in a vehicle provided for your use by the home and adhere to all traffic and state laws regarding the transportation of seniors.
Driving this is an important part of a caregiver's duties. You will be expected to drive residents to doctors or the Palm Springs senior living facility and take them on shopping errands when needed. If you do not have a driver's license, you may be able to get one for yourself through various organizations.
6. Grocery Shopping
You may have to accompany the residents of the home when they take part in their own personal grocery shopping. You will be expected to watch them as they shop, identify any items that need to be purchased, and ensure that everything is paid for before returning them home.
7. Housekeeping & Laundry Services
If you are working in a senior living home in Palm Springs that provides its own housekeeping services, a laundry service should be included at no extra cost to residents. You will be expected to wash and dry the residents' clothes and clean their baths, showers, and toilets as often as needed.
8. Support
It is important that you be available to the families of the residents in Palm Springs senior living facilities and the residents themselves. You may provide support and encouragement to both the family members of the residents and the residents themselves so that they maintain a positive attitude about the situation at hand. This can help assist in their recovery or rehabilitation efforts.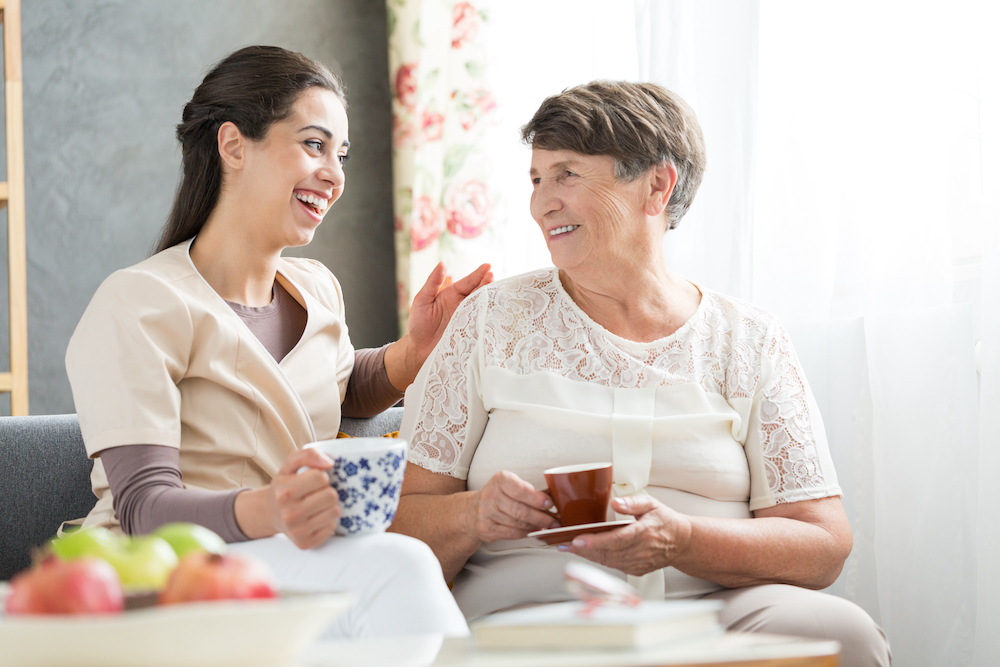 9. Setup & Training
Before you can get to work at a Palm Springs senior living facility, you will likely have to undergo some training. For example, when you take care of the residents of the home, you will be expected to provide them with personal care. Therefore, you will be required to learn how to do so using certain appropriate and necessary techniques. This training is especially important if you are the only caregiver at the facility or if there are no other caregivers available that can help you out while they are on vacation.
10. Crisis Management
As a Palm Springs caregiver, you are expected to be able to provide the residents with emotional support, peace of mind, and similar supportive mental health care, just like a professional mental health therapist. You should know how to talk or listen to the residents and make them feel calm to help them cope with the demands of their lives. You may also need to learn different techniques, including relaxation methods and how to communicate effectively with someone with dementia or Alzheimer's Disease. 
11. Administration & Scheduling
As a Palm Springs caregiver, you will be expected to keep track of your hours and make sure that you are putting in the correct amount of time working for the residents of the Palm Springs senior living facility. You will also be expected to maintain accurate records of how much time you spend with each resident so that the home can compensate you appropriately.
12. Communicating With Other Professionals
There will likely be times when the residents of a Palm Springs senior living facility need to see a professional doctor or therapist. You will be expected to coordinate with them to ensure that you can watch over the residents as they see these professionals.
Palms Springs Senior Living
Overall, working as a caregiver in Palm Springs can be very rewarding if you enjoy interacting with the elderly and want to make a difference in their lives. You will be able to spend time with people who need your help, care, and attention and make sure that they are not only comfortable with your presence but also feel safe. As a result of this, you will feel fulfilled and happy about the work that you do.
Are you a caregiver looking for new opportunities? Bayshire Rancho Mirage is a Continuing Care Retirement Community (CCRC). At our campus, you will find independent living, assisted living, memory care, and skilled nursing care all being provided. At Bayshire Rancho Mirage, our caregivers are known to be among the finest in the industry. For any inquiries, please contact us.